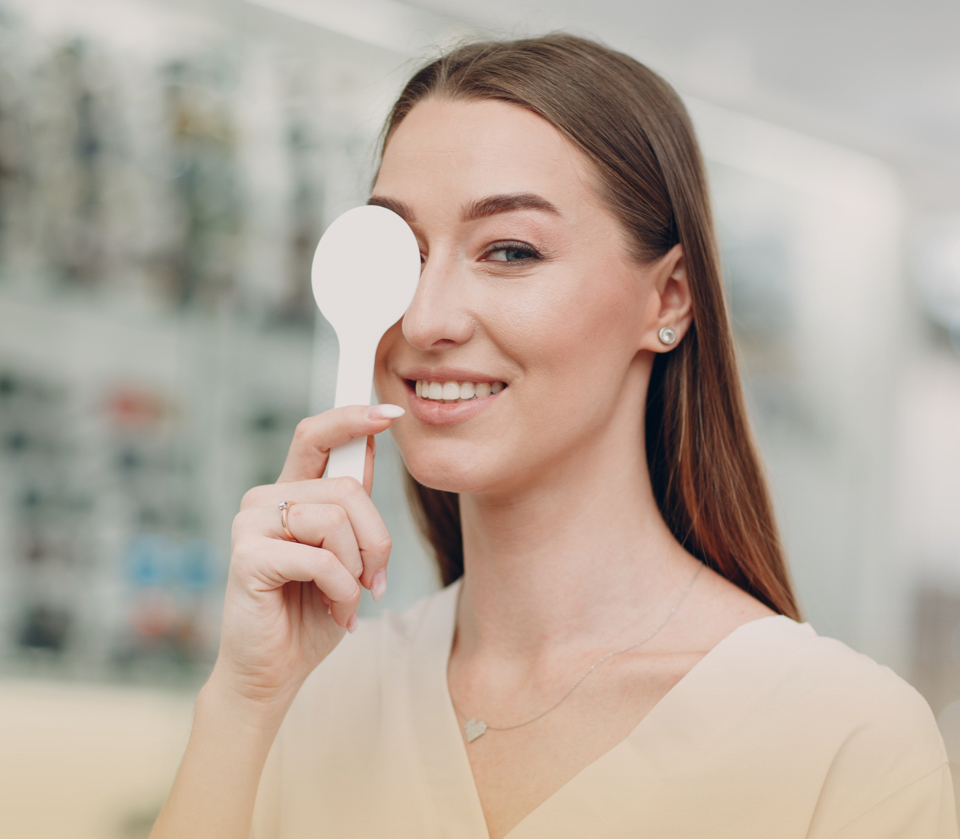 Adult & Senior Eye Exams
Primary eye care is an essential part of maintaining healthy eyes and strong vision for life. No matter your age, routine eye exams assess your overall ocular health as well as update your vision prescription.
Most importantly, eye exams uncover signs of sight-threatening eye diseases. Many eye diseases progress without pain or noticeable symptoms, so a comprehensive exam is essential for preventing vision loss from an undiagnosed condition.
Brilliant Eyecare has invested in advanced diagnostic technology, including the iCare tonometer to screen for glaucoma (with no uncomfortable air puff test!) and a Wellness Scan for an in-depth ocular health evaluation. This state-of-the-art technology allows us to see beneath the surface of your retina, where signs of disease first appear.
These tests are noninvasive, comfortable, and invaluable for diagnosing, monitoring, and protecting your eyes.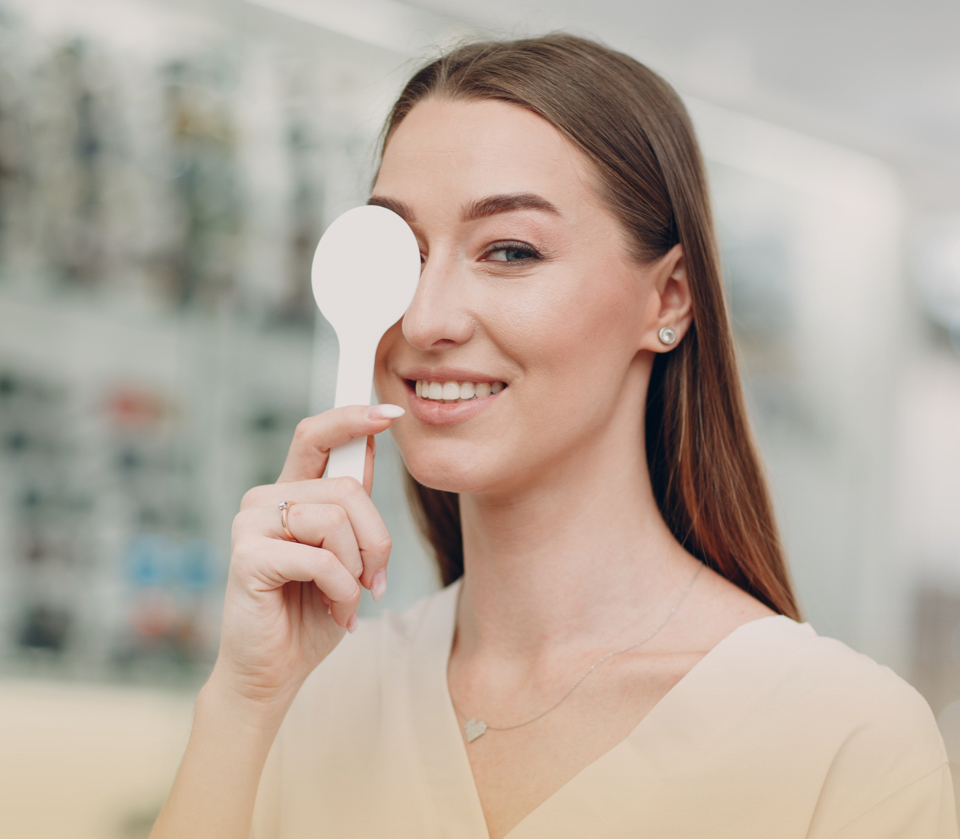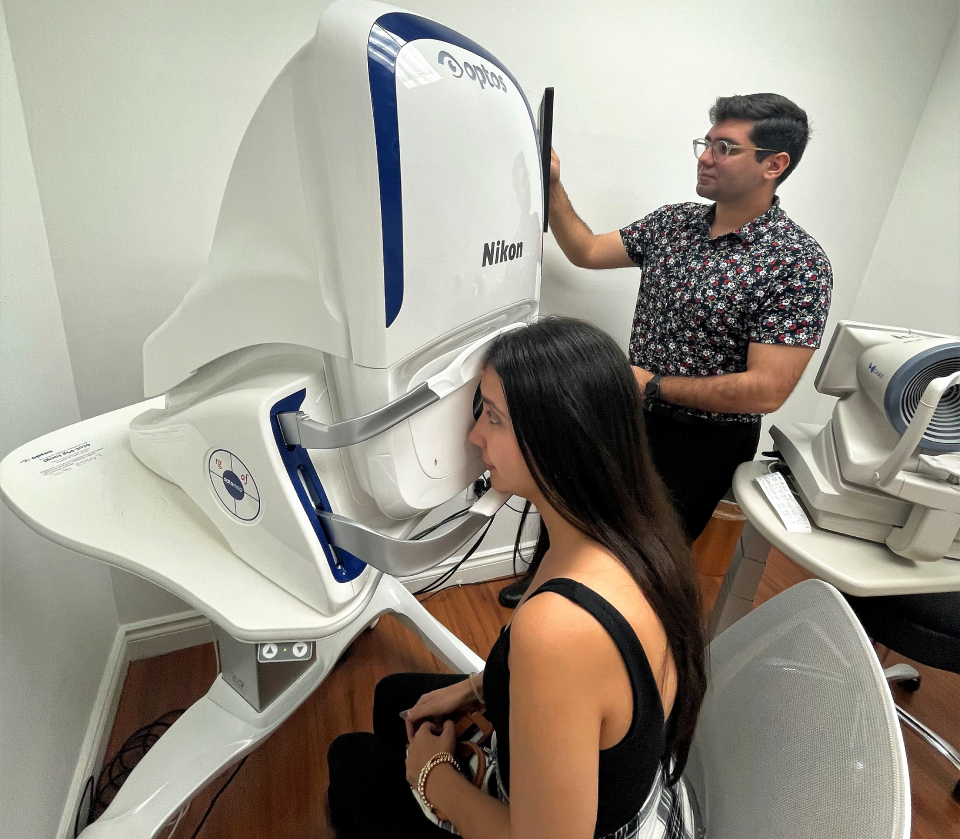 Looking at the Health Inside Your Eyes
As part of our commitment to provide you with the most comprehensive eye care, we offer advanced high-definition digital imaging which allows Dr. Olive to see a wide field view of your retina without dilation.
In less than a second our Optomap technology generates a high-resolution, digital, color image of your retina that becomes part of your permanent medical record. This allows us to better monitor your ocular health and educate you on how to keep your eyes healthy.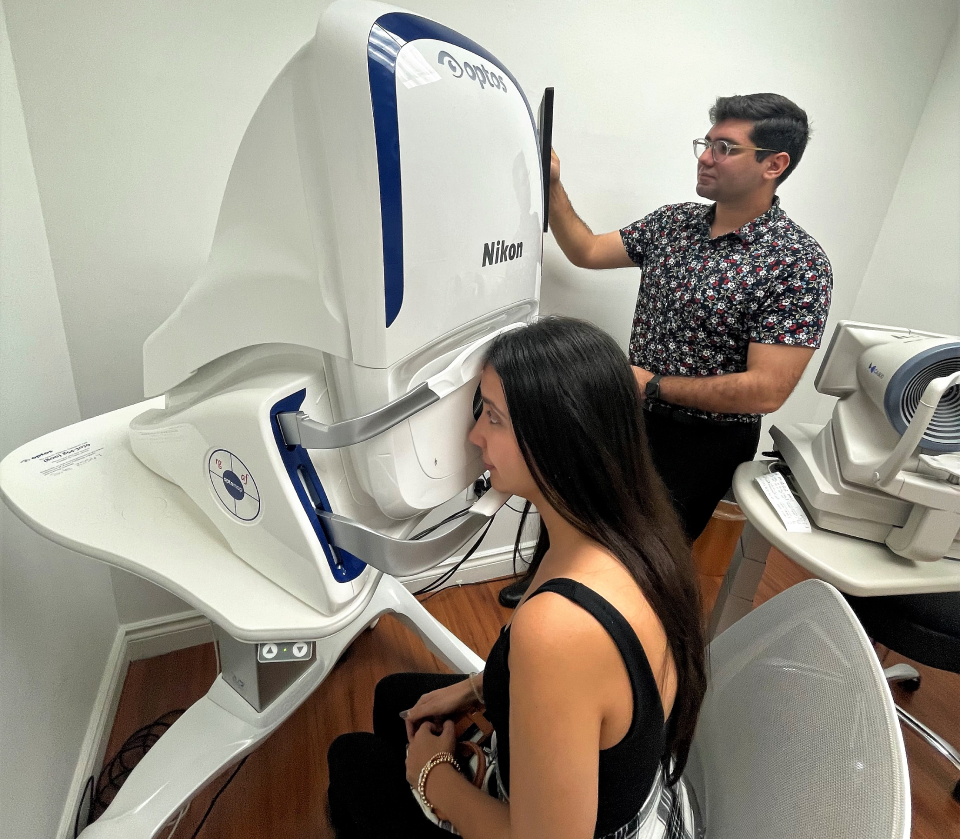 Children's Eye Exams
From the moment they're born, children continually change and grow. The same is true for their eyes. Your child will spend most of their early childhood developing the vital visual skills that will help them learn, grow, and interact throughout life.
Your child's overall development is closely tied to their eyes, and 80% of how they learn is visual. If they develop a vision problem, your child can struggle academically, physically, and socially. Many children aren't aware when they have a problem since they often believe how they see is normal. Annual pediatric eye exams ensure vision conditions are caught early and treated swiftly before your child is impacted negatively.
Eye exams can be intimidating, especially for our youngest patients. Our machines are quiet, quick, and noninvasive. Our team at Brilliant Eyecare also strives to keep your child comfortable and engaged. We're happy to show your child how cool their eyes are!
Diabetic Eye Exams
Diabetes is a systemic health condition that puts unique stress on the eyes. If you have diabetes, you're likely familiar with the risks that come with this lifelong condition and how important it is to see your family physician for regular visits. It's equally as important to see your optometrist for complete, comprehensive eye exams to protect your vision from sight-threatening conditions associated with diabetes.
Diabetes can damage the tiny, delicate blood vessels in the backs of the eyes. Damage to these vessels can lead to several serious diabetic eye diseases that often progress without symptoms, including:
Glaucoma
Cataracts
Diabetic retinopathy
Diabetic macular edema
We encourage our patients with diabetes to see us every year. We use advanced diagnostic technology like fundus photography and ocular coherence tomography to get a complete and accurate picture of your eye health.
Emergency Eye Care
Sometimes, accidents happen. And when they do, our team at Brilliant Eyecare is here to provide you and your family with emergency eye care.
An eye emergency is any injury, disease, or condition that puts your vision at immediate risk. These can include:
Severe or sudden eye pain
Sudden change in or loss of vision
Sudden flashes or floaters
Infections (like pink eye)
Very red eyes
Swelling around the eye or eyelid
Eye injury or trauma
Foreign substance or object in the eye
Even seemingly minor injuries can put your vision and eye health at risk. At Brilliant Eyecare, we have the technology and experience to treat many different types of eye emergencies. And in some cases, we're better equipped than urgent care centers or emergency rooms.If you or a loved one need emergency eye care, please call us immediately.
Our Location
Find our beautiful, full-service clinic in the Premiere Plaza building off US1 and 104th Street.
We're directly across from the Whole Foods shopping center and have plenty of parking, including accessibility stalls.

Our Address
7875 SW 104th Street
Suite 204

Miami

,

FL

33156
Hours of Operation
Monday

:

10:30 AM

–

6:30 PM

Tuesdays

:

8:30 AM

–

4:30 PM

Wednesday

:

8:30 AM

–

4:30 PM

Thursday

:

10:30 AM

–

6:30 PM

Friday

:

8:30 AM

–

2:30 PM

Saturday

:

Closed

Sunday

:

Closed